Friday, January 27, 2006
by Calculated Risk on 1/27/2006 12:16:00 AM
According to the Census Bureau report, New Home Sales in December were at a seasonally adjusted annual rate of 1.269 million vs. market expectations of 1.225 million. November's sales were revised down slightly to 1.233 million from 1.245 million.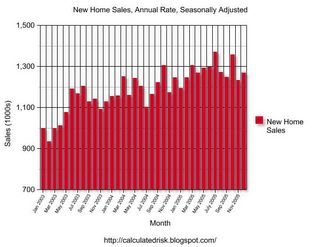 Click on Graph for larger image.

NOTE: The graph starts at 700 thousand units per month to better show monthly variation.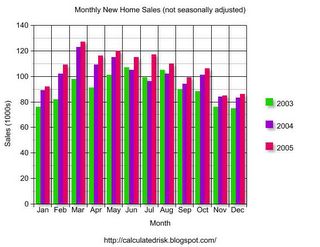 The Not Seasonally Adjusted monthly rate was 86,000 New Homes sold, essentially the same as the 85,000 in November.

On a year over year basis, December 2005 sales were 3.6% higher than December 2004.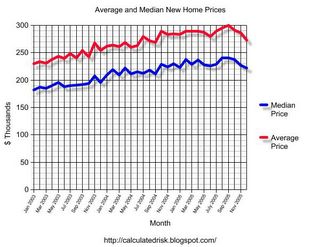 The median and average sales prices are trending down.

The median sales price of new houses sold in November 2005 was $225,200; the average sales price was $283,300.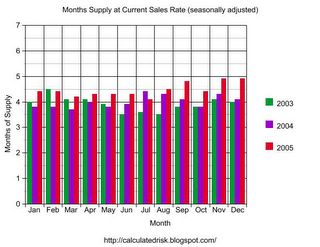 The seasonally adjusted estimate of new houses for sale at the end of December was 516,000. This represents a supply of 4.9 months at the current sales rate.

The 516,000 units of inventory is the all time record for new houses for sale. On a months of supply basis, inventory is above the level of recent years.

This report is still reasonably strong.