Monday, April 04, 2005
by Calculated Risk on 4/04/2005 03:32:00 PM
The National Association of Realtors (NAR) has introduced a "Pending Home Sales Index".

Here is their first news release "Pending Home Sales Index Rises".


"The Pending Home Sales Index,* based on data collected for February, stands at 123.2, which was 2.2 percent above January and 10.4 percent above February 2004. The index is based on pending sales of existing homes, including single-family and condo. A home sale is pending when the contract has been signed but the transaction has not closed. Pending sales typically close within one or two months of signing.

David Lereah, NAR's chief economist, said sales are looking strong for March and April. "Although home sales eased in February, housing activity appears to be firming with a modest uptrend in the months ahead," he said. Data for March existing-home sales will be released April 25.

An index of 100 is equal to the average level of contract activity during 2001, the first year to be analyzed. Coincidentally, 2001 was the first of four consecutive record years for existing-home sales. 2001 sales are fairly close to the higher level of home sales expected in the coming decade relative to the norms experienced in the mid-1990s. As such, an index of 100 coincides with a historically high level of home sales activity."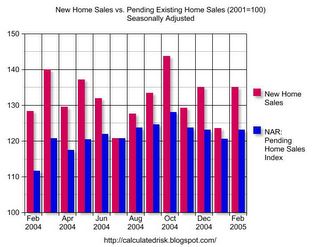 Click on graph for larger image.
This graph compares New Home Sales vs. the new Pending Home Sales Index (2001 = 100 for both series - all data seasonally adjusted). Sources:
NAR
and
Census Bureau
.
Previously I have ignored Existing Home Sales since it lagged New Home Sales by a couple of months. Maybe this new index will be more useful.