Wednesday, June 08, 2005
by Bill McBride on 6/08/2005 09:12:00 PM
Here are a couple of sites I'm following to check the pulse of the housing market (still tachycardia!):

The Mortgage Banker's Association issues the results of a weekly survey on mortgage applications. The MBAA's seasonally adjusted Purchase Index (PI) is a guide to ongoing purchase loan applications.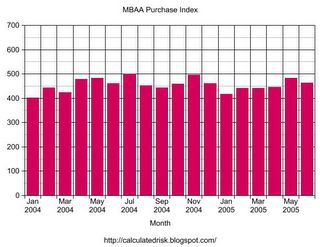 Click on graph for larger image.

This is a graph of the PI for the first week of each month since January 2004. Clearly purchase activity has been very stable. The most recent release shows the PI at 479.3, a slight increase from the previous week.

The MBAA also provides a Composite Index (jumps around based on percentage of ReFis), a Refinancing Index and more. They also provide percentages on refinancing and adjusted rate mortgages. Interesting stuff.

The National Association of Home Builders (and Wells Fargo) provide a monthly House Market Index. This is new (UPDATE: tea points out this is not new, here is the historical data) and is based on surveys of home builders. The index currently shows steady interest in new homes.